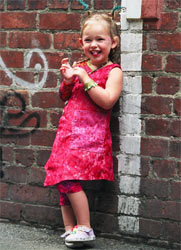 Brady's top is an asymetrical design with only one sleeve. It is made of a very light mesh and is a very bright pink paisley designed fabric. Around the neckline is sewn a green lacey elastic trim which helps keep the top on.

Her little pants are bright again and very pink with squares and circles on them. They're made of lycra and have an elastic waistband for comfort. They are only 3/4 pants that come to just below her knees and she wears these under her dress.

Her dress is also asymetrical and pretty in pink. The fabric is quite stretchy and has a sheen to it. There is obviously a silvery thread in the mix. The fabric is covered in flowers on a vine type pattern.
The buttons at the top front are just for decoration and do not actually do up. They are about 2.5cm across and are round metal with black indentations in a circular pattern.
The dress only has one strap which is on the opposite side to the sleeve on her top.
On the front of the drss is a large pocket made with the other side of the material which is slightly lighter in colour.
The dress is done up at the back with a pink metal zip.

Brady's jewellery is simple yet compliments her outfit with the green contrast. On her left wrist she wears a green wrist band. This is about an inch across and is made of green vinyl with gold indentations. In the centre is threaded a blue stone and the band is done up with a gold metal dome. She also wears a green bracelet on this wrist but unfortunately we couldn't find it.
Brady's necklace is made of green cats eye glass beads that catch the light like a cat's eye - hence my description. Threaded between each 5 glass green beads are little flower beads each a different colour.
all the beads are threaded onto a double band of white string elastic.

Her shoes are definitely made for comfort and for little feet. No huge heels here!
They're t-bar shoes with a silver buckle. They're made of a silvery purple canvas and along the edge of the sole are little purple hearts.
Sewn on the front of each shoe are three plastic buttons, red, yellow and green.