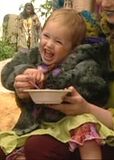 Birthday:
10th November 1999

I
nt
erests
: Georgia likes running around, going to the park and especially swimming.
Biography:
Georgia was full time in The Tribe for 3 years. She's a very natural actress and managed to make everyone love little Brady.
Georgia loves ice cream and chocolate. At the age of four, she preferred rock climbing over swimming, liked brown hair and tall people. Her fave movie was Look who's talking. And her favourite people were her mother and Antonia Prebble, Brady's on-screen mommy.
Her favourite holiday at the time was in Australia.